Ad Details
Ad ID: 4866

Added: April 21, 2020

Ad Type: Brand New

Location: United Kingdom

City: Wellingborough

Phone: 01933 272 300

Views: 160
Description
We are here to help you create your vision for your special day. We pride ourselves on offering a personal service with attention to detail.
During a consultation we will discuss your exact requirements. We work hard to achieve your dream bouquets and arrangements. Pictures and colour swatches are always helpful if you can bring them with you to allow us to colour match a flower for you. We also have a portfolio of our own work to help inspire you.
On the day of your wedding we deliver your flowers to you, and we are also available to set up your reception flowers and church flowers if needed.
From your consultation to the big day we are here for you to answer any questions you may have.
Limited Availability
While our shop remains closed, we are looking to start delivering flowers again from Tuesday 28th April.
Due to limited flower stocks, orders will only be taken over the phone.
To place your order, please call the shop on 01761 433241
We hope everyone stays safe,
Rebeccas's Flower Shop
Flowers for all occasions. Sympathetic, expert and friendly advice.
We deliver in Wellingborough and the surrounding towns and villages. We offer free delivery for local wedding and funeral services. If there is something you require we will do our best to help you.
Photos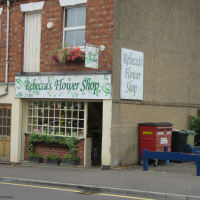 Products and services
Free Initial Consultation
Artificial flowers & plants